With sustainability, local food, fresh produce, and healthier lifestyle choices on everyone's mind, it might seem inevitable that convenience gets the axe when it comes to nutritious, wholesome food. At Langley Wholesale, we don't think that's the case: healthy, fresh vending machines are rapidly growing in popularity for businesses and schools, and micro markets are becoming an office lunchroom hit. Check out some of our featured vendors below to see if they have a solution for you.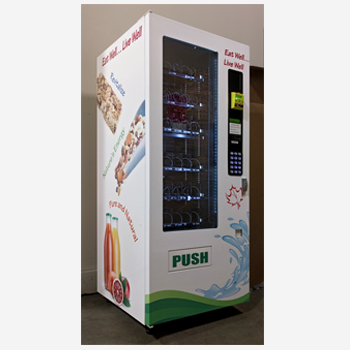 FEATURED: HEALTHY VENDING COMBO
These used machines are a great deal for anyone looking for a vending machine for their office, lunchroom, school, recreation centre, or more. Healthy, fresh snacks are in high demand everywhere, but that doesn't mean convenience has to be sacrificed. Features of these machines include:
Three trays for drinks
Three trays for snacks or fresh food
Drinks can be cans or bottles
Adjustable configuration to suit your needs
MDB compatible
Can use credit AND debit readers for maximum convenience
Great size
And most of all: REASONABLE price!
Contact us at 604-881-2223 today or send us an e-mail to get your quote for a healthy vending combo machine today!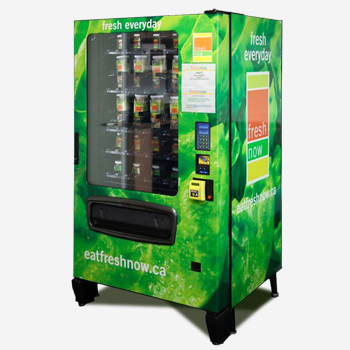 FEATURED: Fresh Now – British Columbia
Healthy Vending Machines for SaleFresh Now is a British Columbia company looking to change the way people see truly healthy, truly fresh foods. Haely Lindau, M.Sc. of Nutrition, and her team at Fresh Now are looking to change the way we look at healthy food and convenience.
Fresh Now is currently getting a lot of buzz for their fresh food vending machines popping up in offices, schools, businesses, and more, but on top of that, Fresh Now also provides catering and food supplies for micro markets, nutritional seminars, and so much more. Check out this Vancouver Sun article about their food and vending machines!
What really sets Fresh Now apart is that while the food is made fresh daily to stock machines, prices range from $3 – $8, making their delicious healthy options more affordable than most fast food places! What a concept, huh?
To check out the menu at Fresh Now or find out more about their nutritious food and catering services, head on over to Fresh Now's website: https://freshnowfood.com/ And if you think your school or business could use one of Fresh Now's machines, stocked full of tasty, healthy snacks and meals, let us know!
Other Healthy Vending Machine Options:
For customers looking for easy, healthy snack options, these eye catching healthy vendors can offer a variety of products such as:
fruit juices
yogurt
fruits and vegetables
baked chips
energy bars
wraps and sandwiches
sparkling water
sports drinks
milk
crackers and tuna
and more!
Did this healthy vending page answer all your questions or did we miss something? Head to our Frequently Asked Questions to see if it's answered there. And if it isn't, please send us an email through our Contact page – we would love to hear your feedback!